The Wexford had a successful official Grand Opening with many distinguished guests, some of which were part of the creation and development of Bria's newest community, The Wexford. Century Group President, Sean Hodgins spoke to over 75 guests about the new Northgate development that The Wexford is part of.
The development also includes CityHomes which are townhomes for residential use, and The Offices for business use. Together, this mixed-use community is all found in this interconnected space, with children riding bikes, seniors enjoying their shared courtyard, and state-of-the-art office and retail space for lease all found on the southwest corner of the 56th street and 18th avenue block.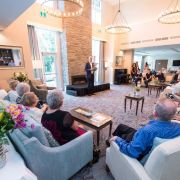 We are honoured to have the Delta, B.C. Mayor, the Honourable Mayor Lois Jackson partake in the cake cutting ceremony and speak to the need for seniors to have communities like The Wexford to provide supportive environments, so that seniors can live out their lives in the beautiful community of Tsawwassen, B.C. 
Along with the dignitaries, residents from The Waterford and The Wexford enjoyed amazing food prepared by The Wexford's kitchen staff, champagne, and cake as everyone mingled and enjoyed their afternoon.
We are proud to be part of this vibrant community and have the support of those who live there.