Northgate
A Mixed-Use Community in the Heart of Tsawwassen
Situated in downtown Tsawwassen, Northgate is a mixed-use community with character townhomes, a commercial tower for offices and retail, and a Bria seniors' community. The project includes a number of environmental innovations that make it exceptional in Tsawwassen including a rainwater reclamation system, a number of energy-efficiencies, a green roof on the office building, and community gardens. The project also features an inner courtyard with walking loop, and vehicles tucked away in an underground parking garage.
The commercial building, The Offices at Northgate, includes a mix of retail units for lease at the ground level and five floors of office spaces, ideal for professional practices, medical services and commercial businesses who are looking for a location at the gateway to the Lower Mainland, Vancouver Island and the United States. Now selling. Commercial Enquiries: Jaime Schlackl, Century Group | 604 948-3827. Leasing Enquiries: Tina Thygesen, Century Group | 604 948-3812.
The residential offering, CityHomes at Northgate, includes 41 homes, from one to three bedrooms, facing the quiet, tree-lined 55A Street. SOLD OUT.
The Wexford is our newest Bria seniors' living community. It is a boutique-style 4-storey, 65 suite independent living residence, designed as a sister community to The Waterford. NOW RENTING. Enquiries: Rosanne Philbrook, Bria Communities | 604 948-4488
Image: Site plan of Northgate in Tsawwassen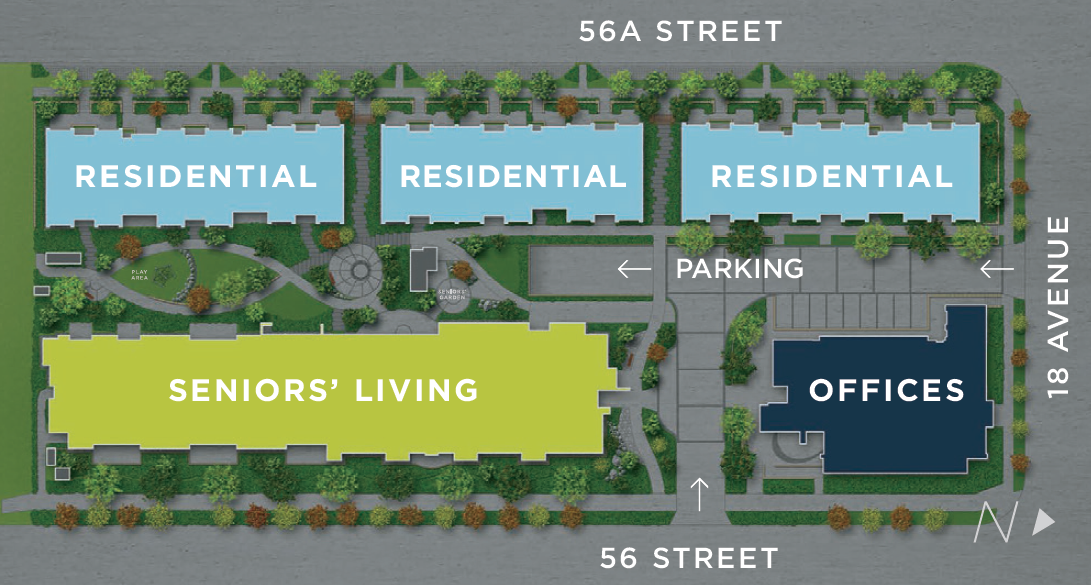 Details:
Mixed-use development including townhomes, office and retail building, and a seniors' independent living community.
Architect: Peter J Dandyk, Dandyk+Wollin Architects Inc.
Landscape Architect: van der Zalm + Associates Inc. 
Websites
CityHomes.ca
WexfordForSeniors.net
Northgate-Delta.ca
Location:
Northgate Offices & Retail
Canada