April 18, 2017
We're a Jostle Awards 2016 Finalist!
Century Group was nominated for Jostle Awards 2016, and the results are in! We are a finalist for Best Leadership Participation of the Year - Enterprise. This category recognizes great leaders who recognize the value of an engaged workforce, and the award goes to our most engaged Executive/Leadership group or individual.
Jostle is a cloud-based intranet platform that connects employees inside of organizations and improves employee engagement and internal communications. Jostle connects staff teams and supports our collaborative workplace culture with chat, news, resource libraries and a prolific activity stream. As an added bonus, Jostle's corporate headquarters are in Vancouver, which has made the adoption of the platform a local success story.
In the past two years, Jostle has been used extensively by leadership and staff to unify our employees from different sites across Langley, Surrey, and Delta. Our leadership has spearheaded several initiatives that aim to teach staff the importance of internal communications and collaboration. Some of these initiatives include campaigns, putting together learning tools like workshops and worksheets, making videos, and forming a Jostle Improvement Committee that meets quarterly to discuss ways to make the Intranet more engaging and useful to staff. Our leaders have been onboard since the beginning, and are true ambassadors of Jostle. Their commitment to uniting our staff at all fronts which makes us a strong and resilient organization is truly impressive.
Below is the press release that has been published last Friday notifying the news and media about the finalists. We're happy to be included.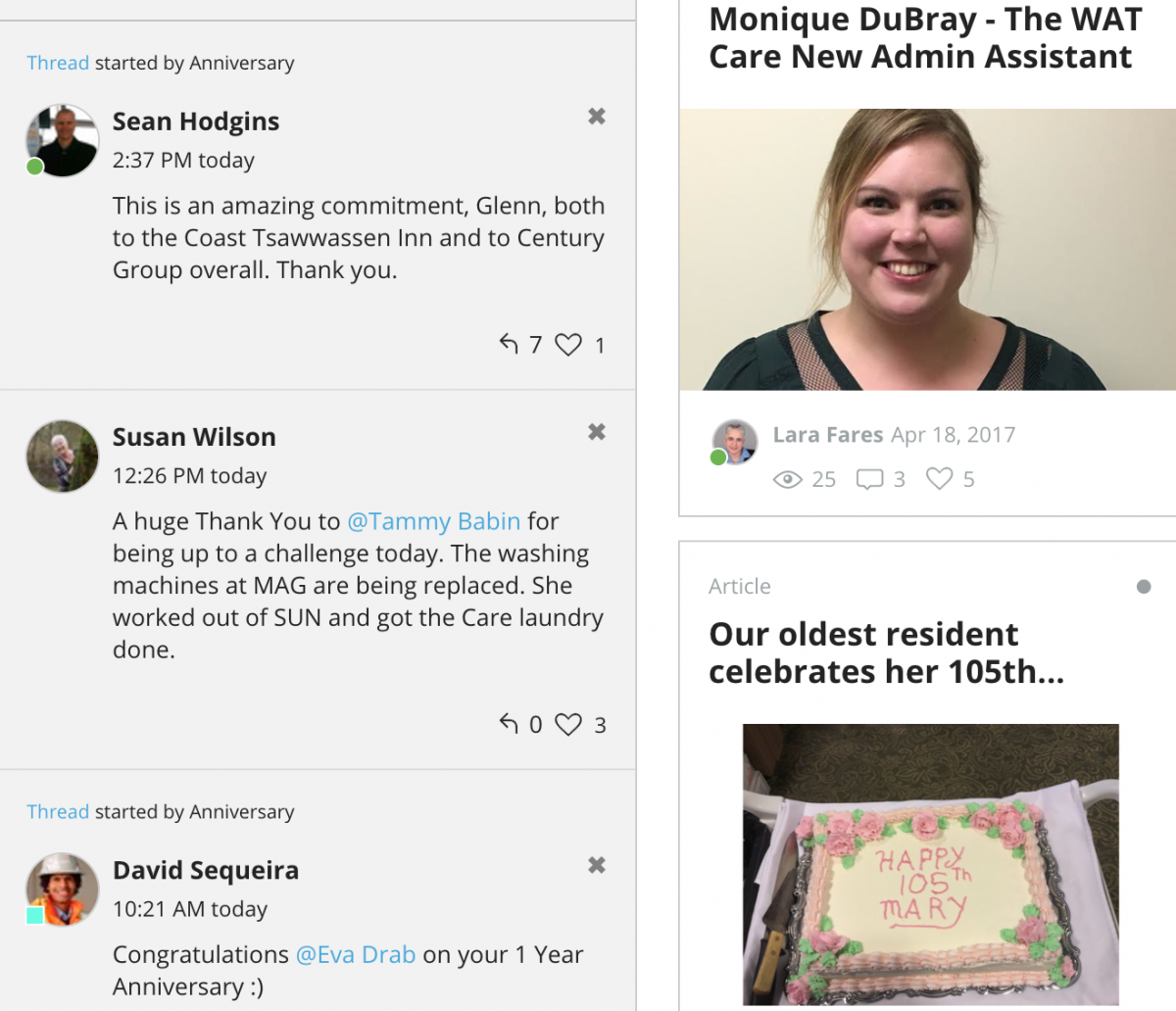 The Press Release:
We've spent the last few weeks looking at more than 70 entries to Jostle Awards 2016 from 39 Jostle customers across the globe. These stories of people, purpose, and transformation wowed and inspired us. And now, it's time to announce our finalists!
Each entry was as fascinating as the next, and we were blown away by our customers' dedication to building extraordinary workplaces. It filled us with pride to discover how many diverse organizations are using their Jostle intranets to improve their communication, workplace culture, and engagement.
So, let's get down to business!
The 2016 finalists are:
The Extraordinary Organization of the Year
Ashtons Legal
Buckingham Strategic Wealth
Health Quality Council of Alberta (HQCA)
Morgan McKinley
Padre Dam Municipal Water District
Rookie of the Year - Enterprise
AS Solution
Horne LLP
One Workplace
Titanic Belfast
Xero
Rookie of the Year - Under 250 Employees
Benefits by Design (BBD) Inc.
Core-Asset Consulting
MainStreet Property Group LLC
Per Scholas
systemsGo
Best Launch of the Year
Horne LLP
Innopak LLC
OnDeck Capital
Restoration Services, Inc. (RSI)
State Heritage Office
Innovative Use Case of the Year
CCV Insurance & Financial
Cottsway Housing Association
Health Education England
McFarland Clinic
Woodland Trust

Employee Engagement Initiative of the Year
City Gateway Trust
Cruise & Travel Experts
Padre Dam Municipal Water District
Premier Employee Solutions
Randolph Savings Bank

Best Leadership Participation of the Year - Enterprise
Century Group
City of Vaughan
Ivie & Associates
Morgan McKinley
Xero

Best Leadership Participation of the Year - Under 250 Employees
Bareburger
District of Lake Country
Elevate LLC
Spokeo

Jostle Ambassador of the Year - Enterprise
Connect Wireless
Crimson Interactive Pvt. Ltd.
Morgan McKinley
TES Global
Xero
Jostle Ambassador of the Year - Under 250 Employees
Benefits by Design (BBD) Inc.
Catch The Fire
Per Scholas
Spokeo
State Heritage Office
Congratulations to all our finalists! In this concluding phase of the Awards.
Thank you to each and every customer who entered the 2016 competition - we truly appreciate your contribution and willingness to share your story. There's so much to be proud of! Stay tuned for the announcement of our winners.
About Jostle Awards
The annual Jostle Awards program shines light on our amazing customers and their Jostle intranets. Every year, we ask for nominations and hear incredible stories of how Jostle has helped create extraordinary organizations across the globe. Take a look at our 2015 Awards winners .
About Jostle
is the creator of a new kind of employee intranet. Jostle's Jostle Corporation People Engagement platform is helping organizations around the world become extraordinary. It creates connected and vibrant workplaces by engaging employees, enabling communication, and driving workplace culture. Our customers achieve employee participation rates of over 85% - that's over 5X industry norms.
See Jostle's intranet in action in this 2-minute .